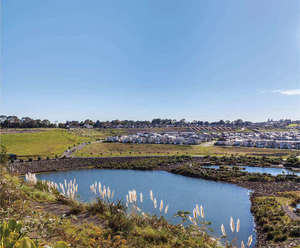 Todd Property
Todd Property Group is a New Zealand-based property developer, responsible for designing and delivering some of the country's largest land development projects. As specialists in creating quality master-planned communities in accordance with the master plan concept, Todd Property Group takes a fully comprehensive approach to developing communities. Every aspect of the development is carefully considered, integrating architecture, landscaping, social aspects, sustainability and urban design into cohesive plans that anticipate the present and future needs of the community as it evolves. From housing and infrastructure to shopping and recreation, the results are successful environments that are a pleasure to visit and live in, and guarantee a legacy for generations to come.
Todd Corporation
Todd Property Group is part of the family-owned Todd Corporation, one of New Zealand's largest and most successful companies. With a history that spans over 130 years, Todd Corporation has interests in oil and gas exploration and production, electricity generation, energy retailing, property development, healthcare, minerals and technology.
Todd Energy
Todd Businesses
Todd Energy is a leading energy company operating onshore natural gas fields in Taranaki. With offshore joint ventures, Todd Energy is a major New Zealand hydrocarbon producer responsible for over 75% of the country's hydrocarbon energy production.

The Todd Energy business is centred around three onshore natural gas operations, Mckee and Mangahewa in North Taranaki and Kapuni in South Taranaki. Todd Energy is a significant and growing contributor to the New Zealand economy. In conjunction with Nova Energy, Todd Energy currently employs over 500 staff in upstream and downstream operations around the country.
Todd Minerals
Todd Businesses
Todd Minerals manages investments across a number of international projects, including the Balla Balla iron ore mine in Western Australia.

Todd Minerals has acquired a stake in Wolf Minerals, an ASX listed company which is developing the Hemerdon tungsten project in Devon, England, and a stake in the Sisson tungsten project in New Brunswick, Canada.
Nova Energy
Todd Businesses
Nova Energy is a wholesaler and retailer of natural gas and an electricity generator and retailer. Being part of the Todd Group provides Nova Energy direct access to Todd Energy's significant gas reserves and industry knowledge. Nova Energy customers benefit from expert gas advice and enhanced security of supply.

Nova Energy supplies electricity to approximately 75,000 customers, and natural gas to 30,000 customers across New Zealand.
Integria Healthcare
Todd Businesses
Integria Healthcare operates in the natural healthcare market through manufacturing and distributing a total suite of healthcare products supported by scientific and traditional evidence.

Integria Healthcare's products are part of everyday life for millions of people around the world who are seeking natural ways to maintain long, healthy lives. Brands include: Thompson's, Thursday Plantation, MediHerb, Eagle, Red8 and Eureka.
Todd Energy International
Todd Businesses
Todd Energy International has major methanol and gas projects in North America. South Louisiana Methanol is located in St James's Parish, Louisiana, and converts natural gas into methanol for delivery to the US Gulf Coast.

Todd Energy Canada is the operator of the Birch Project, consisting of 43,000 acres in northeast British Columbia liquids rich Montney. Head office is located in Calgary, Alberta and operations are conducted in northeast British Columbia.
The Todd Foundation
Todd Businesses
The Todd family has a strong history of philanthropy. In 1972 it established the Wellington-based Todd Foundation to provide funding to New Zealand organisations that contribute towards the Foundation's vision of "inclusive communities where all families, children and young people can thrive and prosper."